In my work as an established architecture and interiors photographer, one aspect of my job which I really enjoy is discovering interesting artwork in residential and commercial spaces. Over the years I have photographed artworks for a select group of artists. I am now able to offer photography of paintings and 3D artwork from my base near Stroud, Gloucestershire. 
Creating faithful photographic records of artists' work is a demanding task. It is one that I approach with a disciplined approach to the technical execution and, I like to think, a sensitivity to the subject matter and the materials and substrata used, borne out of many happy years spent observing and appreciating the visual arts. 
There is a certain satisfaction in knowing that my photographs may serve in many cases as the only link between an artist's work and their audience. 
Whatever your medium or subject, I will approach the recording of your work with a careful attention to detail, plus a lot of interest and enthusiasm! 
Every artist's work is individual and this website can only present an overview of what I have produced for existing clients and items from my own (modest) art collection.
So the best thing is to
reach out >>>
 for a chat and I will be delighted to talk about your requirements in detail.
I look forward to working for you.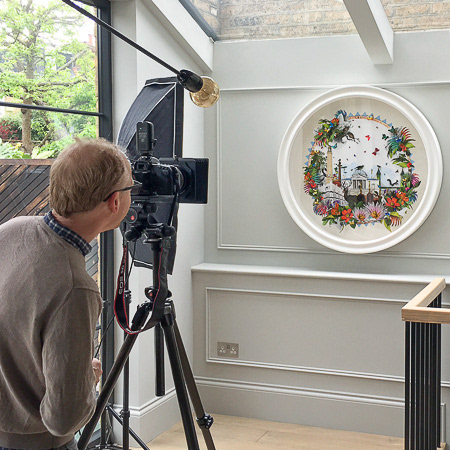 The CV bit...


Simon has been a practising commercial photographer since the late 1980s. 
He was in-house photographer for Phillips Auctioneers in their Collectors' department when they were based in New Bond Street, London, and worked exclusively in large format, photographing subjects from paintings to silver and scientific instruments and collectibles.
Since 2008 he has specialised in
architectural and interiors work
for commercial and editorial clients and select artists.
His business is fully insured for location photography.
Simon is DBS checked: certificate is available to view on Gov.uk website on request.
Kind words...


It's release day 💃 💙  6 pm GMT. Yesterday I had the pleasure to meet Simon.
His equipment, knowledge and skills blew my mind. I have never met a better art photographer.
We photographed all six pieces. Ensuring we got the right images of each piece.
I'm very serious about the quality of my work from the brushes I use right down to the wrapping of orders.
So it only makes sense I would use 
@simaxpix
. 📸
Copyright notice


All images on this website are ©Simon Maxwell Photography. Permission has been requested where applicable from living artists to display their work in this space. Images may not be downloaded or used for any purpose without the agreement of both the artist in question and the photographer.